Turner, Roscoe
29 Aug 1956
At a news conference and luncheon in Los Angeles, prior to the running of the 1956 Bendix Trophy event, five of the six participating pilots got together with Capt. Roscoe Turner, who flew in three previous Bendix events.
The Bendix is anually flown on the opening day of the National Aircraft Show. The '56 Bendix was flown on 1 Sept. 1956 from George AFB, to Oklahoma City in North American F-100C Super Sabres.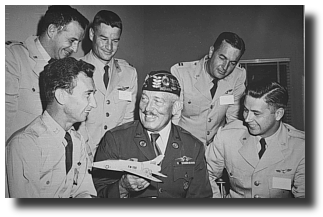 Seated (left to right) are: Capt. Robert Madden, Col. Turner and 1st Lt. John R. Niemela. Standing (left to right) Capt. Manual J. "Pete" Fernandez, Capt. Aubrey C. Edinburg and Capt. Archie T. Iddings. Capt. Robert A. Farnsworth was not present.