"Agents, Close 48 listings this year"
Do you want to be average or want to be GREAT?
How do you measure up? The average realtor sells 12 houses a year… and maybe you sold 13. That's great. Do you know what's better than selling 12 houses a year? How about 3 or 4 deals a month? 36 closings How about 48? …Maybe even ?!!
The Impossible only seems impossible until someone actually does it.
And believe me, it's not impossible… because [insert my coach, my friend, my peer, Krista Mashore does it and her students are doing it to, in cities and towns nationwide, in TODAY'S real estate market … and that means YOU can do it too!
If you haven't sold 24-36 homes (or more) in a year… it's not your fault. Maybe you've been taught old tactics… Or maybe, you haven't had any guidance at all… so, you just need a little help.
If you want some help from a top 1% Realtor in the US, who knows how to  implement digital marketing strategies SUCCESSFULLY into a real estate agent's business…
AND a proven system that works ALL ACROSS the nation… to help all different types of agents close more deals…
What if a blueprint actually existed to get you from where you are now… to closing 3-4 more deals per month?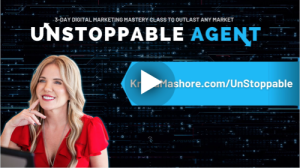 What if there was a mentor for you   who's using the exact tools and systems she's teaching, so she knows what's working and what's not working for real estate agents in today's market?
What if you could walk away after just 3 days of training and live coaching, with video creation and content strategies so you can start changing your business before the end of the month…
Click to learn more about Krista Mashore's 3 Day Unstoppable Agent Mastery Class!  
The right blueprint can take you from average agent to top 1%