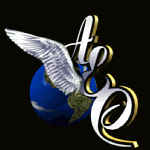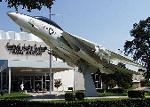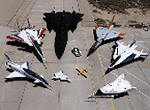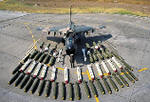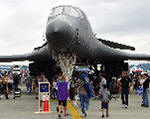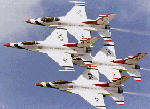 Lockheed
F-104C
'Starfighter'
Description

| | |
| --- | --- |
| &nbsp Manufacturer: | Lockheed |
| &nbsp Base model: | F-104 |
| &nbsp Designation: | F-104 |
| &nbsp Version: | C |
| &nbsp Nickname: | Starfighter |
| &nbsp Designation System: | U.S. Air Force |
| &nbsp Designation Period: | 1948-Present |
| &nbsp Basic role: | Fighter |
| &nbsp Crew: | Pilot |
Specifications

| | | |
| --- | --- | --- |
| &nbsp Length: | 54' 8" | 16.6 m |
| &nbsp Height: | 13' 5" | 4.0 m |
| &nbsp Wingspan: | 21' 9" | 6.6 m |
| &nbsp Wingarea: | 196.1 sq ft | 18.2 sq m |
| &nbsp Empty Weight: | 12,760 lb | 5,788 kg |
| &nbsp Gross Weight: | 19,470 lb | 8,831 kg |
| &nbsp Max Weight: | 27,853 lb | 12,634 kg |
Propulsion
&nbsp No. of Engines:
1
&nbsp Powerplant:
General Electric J79-GE-7 (A/B 15,800Lb/7,167Kg)
&nbsp Thrust (each):
10,000 lb
4,536 kg
Performance
&nbsp Range:
850 miles
1,370 km
&nbsp Cruise Speed:
510 mph
821 km/h
443 kt
&nbsp Max Speed:
1,150 mph
1,850 km/h
1,000 kt
&nbsp Climb:
54,000 ft/min
16,459 m/min
&nbsp Ceiling:
58,000 ft
17,680 m
History
Date
Subject
Event
1959/12/14
United States Air Force,

Capt. Joseph B. Jprdan, flying a Lockheed F-104C Starfighter set a new altitude record when he reached 103,395.5 ft over the Edwards AFB. Flight Test Center California.

During this flight, Capt. jordan reached 98,424 ft 930,000 m) in only 15 minutes 4.92 seconds. This was the first aircraft taking off on its own power to reach the 30,000 m and 100,000 ft altitudes.

Known serial numbers

56-0883 / 56-0938, 57-0910 / 57-0930
Examples of this type may be found at
F-104C on display


Arizona ANG - 161st ARG, Phoenix

Blackbird Airpark

North Dakota ANG - 119th FG, Fargo

Peterson Air & Space Museum

Sheppard AFB Air Park

South Carolina ANG - 169th FG, McEntire ANGB

Tennessee ANG - 134th ARG, Knoxville

United States Air Force Museum

Virginia Air and Space Center / Hampton History Center

Wings Over The Rockies Aviation & Space Museum
&nbsp
&nbsp
&nbsp
---
&nbsp
Recent comments by our visitors

homer f. cole
, UT
I would like to know if possible who the crew chief of f-104c aircraft 57-0925 was at udorn Thailand in 1966.
01/13/2016 @ 04:55 [ref: 69407]
Gary Green
, AZ
17 years working for Lockheed at Luke. training the German AF. on the F-104G....great plane !
12/01/2013 @ 18:23 [ref: 68202]
AL BARKL
Elko, NV
I WAS ENGINE TROUBLE SHOOTER ON THE104C & D MODELS AT GEORGE A. F.B. ALSO A CREW CHIEF AT LOCKHEED AT LUKE A.F.B. MY TAIL NO. WAS 3075 A TF104G. I KNEW PAPPY YOAKAM
09/15/2010 @ 13:58 [ref: 30145]
AL BARKL
Elko, NV
I WAS ENGINE TROUBLE SHOOTER ON THE104C & D MODELS AT GEORGE A. F.B. ALSO A CREW CHIEF AT LOCKHEED AT LUKE A.F.B. MY TAIL NO. WAS 3075 A TF104G. I KNEW PAPPY YOAKAM
09/15/2010 @ 13:57 [ref: 30144]
joe
, IL
try ebay or watch it for free on you tube,also on you tube watch star trek episode tomorrow is yesterday for more f104 clips..
03/24/2010 @ 00:20 [ref: 25916]
Laura Yoakam Smith
Surprise, AZ
My Dad was a Lockheed crew cheif. He was known as Pappy Yoakam when the 104 was at Luke AFB. Does anyone remember him? He is deceased now, but I remember all of his tales of the 104.
02/15/2010 @ 13:28 [ref: 25726]
hj
, UT
for the movie try you tube,they have some good f 104 clips on there
12/16/2008 @ 21:30 [ref: 23258]
Jim Robilotta
El Segundo, CA
The F-104A was the airplane I joined the Air Force to fly. My father, Joe, was crew chief on the Zipper with the 56th at Wright-Pat (58-60), numerous TDYs to the 337th (60-62)at Westover from his duty station at Stewart AFB, NY and with the 319th at Homestead (62-66). Unfortuntely for me the G was the only thing flying when I came on active duty and it went away pretty quickly. I am building a scale model of an A from the 319th days. Anyone our there remember if the wings were painted white on top back then?
10/08/2008 @ 11:17 [ref: 22808]
mike buteau
, OR
I worked on F 104s at george AFB 1964 (Gun plumber)
09/16/2008 @ 09:30 [ref: 22689]
Tom Kennedy
Yuma, AZ
I was in the 337th FIS out of Westover in 1958 thru 1960. Served under Lt Col James Jabara ... now desceased.

We went to a William Tell at Tyndall. Any pice or stories appreciated. Email me for my website.

Other memorable events
1. National Air Show
2. Held prisoner in Canada after flying demo.
3. Qusmoy
4. William Tell

roadrunner@aceweb.com
03/27/2008 @ 14:32 [ref: 20254]
&nbsp
Recent photos uploaded by our visitors